In the past two years of supporting Eric Kardon as an Autism Support Professional, Abbey Willis has run with him in a half-marathon, two 10-mile races, and several other events even though she previously had just run for light exercise. "Running is an essential part of Eric's life, so Abbey took on the role of becoming his running partner," said Eric's mother, Mary Lynn Kardon.
Abbey also signed up to volunteer with the Miracle League of the Triangle so she could buddy up with Eric, attended his jazz dance recitals, and cheered him to the top of the climbing wall in an adaptive climbing program. "Abbey asks to be a part of all Eric's community activities," Mary Lynn said.
"Abbey is dedicated to helping Eric achieve amazing things," his mom said. "She is a motivator, a supporter, and above all, brings joy to Eric and his family."
Because of Abbey's dedication, Mary Lynn nominated her for the 2018 John and Claudia Roman Direct Service Award for outstanding commitment to individuals with autism and their families. Abbey was named the winner on Sept. 7.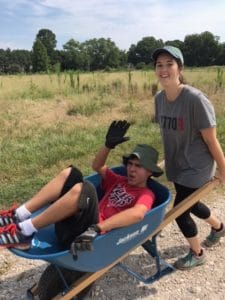 Abbey said her favorite part of working with Eric has been "really getting to know him over the past few years – how hard of a worker he is and how funny he is and how sweet to everyone. I just really love getting that one-on-one connection with him."
"He pushes me to think that I can do more," she said. "He's always trying new things. It's amazing that he works so hard at everything he does." The pair spends hours volunteering at a park and a farm every week, which also was new to Abbey. "I really enjoy harvesting, planting, and learning about different farming practices alongside Eric," she said.
Abbey also has enjoyed getting to know Eric's family, who live in Raleigh. "They've really welcomed me into their family. I feel like I've become part of his family. That's a really special bond." Abbey said she has learned a lot from Eric's mother, who is very involved in supporting him, she said.
For now, she will keep enjoying her time with Eric. "I'm trying to grow as a person and help him grow as a person," Abbey said. "Every day I get to spend with him, I grow a little bit more. I'm pretty lucky to be able to spend as much time with him as I do."
Eric's mother said Abbey's "enthusiasm and support go far beyond any job description."
"Since the day my son Eric was diagnosed with autism, I wanted to ensure he has a life filled with fun opportunities, purpose, and meaning. Abbey Willis embraces this goal each day she works with him."
The John and Claudia Roman Direct Service Award, a cash award of $1,000, was endowed by Lori and Gregg Ireland to honor Christine Roman, the direct support professional who worked with their son, Vinnie. It was named for her parents, John and Claudia Roman. The Autism Society of North Carolina has bestowed the award for 12 years as part of its annual celebration of direct support professionals.
Tags:
ASNC
,
autism
,
autism advocacy
,
autism society north carolina
,
autism society of NC
,
Autism Society of North Carolina
,
Autism spectrum
,
Autism Spectrum Disorder
,
Autism Spectrum Disorders
,
autism support
,
direct support professional
,
Roman Award