Four years ago, Rebecca and Eddie Hurst's son, Mark, was diagnosed with Autism Spectrum Disorder. Mark, who is now 8, "is a very brilliant boy who loves videogames, LEGOs, math, and reading Captain Underpants books, and knows more about technology than we do!" Rebecca said.
Mark's biggest challenges are social interaction and sensitivities regarding food, noise, and clothing, but his mom says he is making progress."Mark, a child who really doesn't like to be touched, has just started asking if he can hug Eddie and me… which is a huge thing for all of us!"
As parents of a child with autism, the Hursts understand how important programs and supports are to the progress of individuals with autism.
"Shortly after Mark's diagnosis, we learned about the Autism Society of North Carolina and all of the wonderful support they give families who live with autism," Rebecca said. "From that point on, Eddie and I decided we wanted to give back however we could to ASNC."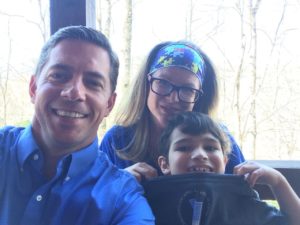 The Hursts found a fun and profitable way to support ASNC, creating the annual Wine for a Reason benefit. Rebecca's employer, Linville Falls Winery in Newland, provides a free venue for the family-friendly event each year. Wine for a Reason includes music, food, beverages, and a silent auction, with all proceeds and donations going directly to ASNC.
This year, the couple aim to raise $10,000 to support individuals and families affected by autism. "We have continued to double our donations each year, and hope to reach and exceed our goal of $10,000 this year!" Rebecca said. "With the rate autism is growing, no doubt most everyone knows or will know someone with ASD. That is why it so important to help these amazing individuals live happy, healthy, and successful lives."
The fourth annual Wine for a Reason is set for noon to 5 p.m. Saturday, May 13, with The Harris Brothers Band, craft beer from Blind Squirrel Brewery, and famous Carolina barbecue. Non-alcoholic drinks will also be available. Linville Falls Winery is located at 9557 Linville Falls Highway in Newland.
Greta Byrd, ASNC Associate Director of Services, will also speak at the event about the nonprofit's services and programs.
"A world of acceptance, understanding, and kindness is what we wish for our son," Rebecca said. "We are so incredibly thankful to our community, friends and family for embracing Wine for a Reason and realizing how vital organizations like the ASNC are to those families living with autism."
For more information or to donate to the silent auction, call Rebecca Hurst at 828-773-4502 or email at rchurst75@gmail.com.