Program information:
Rental information:
Cindy Lodestro, Camp Royall Administrative Assistant
919-542-1033
Camp Royall
250 Bill Ash Road
Moncure, NC 27559
Fax: 919-533-5324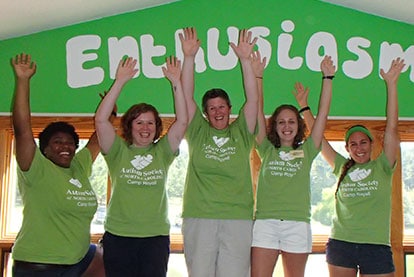 Lesley Fraser, Director
Lesley found her way to Camp Royall for the first time in 2006. Prior to serving as the Director of Camp Royall, Lesley also worked as a Counselor, Activity Director, and Assistant Program Director. Lesley's life-changing experiences at Camp Royall gave her the commitment and desire to make the permanent move from her home country of Scotland to work year round at camp. Lesley studied for her master's degree in social work at the University of Edinburgh and is also a Board Certified Behavior Analyst. Lesley's favorite part of her job is getting to meet all of our amazing campers and their families, and seeing them return from year to year.
Kristian Page, Assistant Director
Kristian found Camp Royall in 2013 and got her start as a Counselor. Upon graduating with degrees in outdoor education and psychology, she knew she wanted to continue working with people on the autism spectrum in an outdoor setting. Kristian moved from Georgia to work at Carolina Living and Learning Center with UNC TEACCH, and continued to work at Camp Royall's year-round programs as often as she could. Kristian's heart has always been with Camp Royall, and she was thrilled for the opportunity to work at the happiest place on Earth full-time.
Kirby McLaughlin, Administrative Assistant
Kirby started working at Camp Royall in the fall of 2017. In 2015, while she was earning her Office Administration degree, she started working with ASNC as a Community Skills Instructor. That's when she fell in love with helping families who had loved ones on the spectrum. Once Kirby graduated, she immediately started looking for a job with ASNC as an administrative assistant. She found Camp Royall and has been a blessing ever since. Kirby's passion for helping others has made her a valued part of our team.
Cindy Lodestro, Administrative Assistant
Cindy has been working at Camp Royall since March 2014 and loves everything about camp. The directors, the counselors, all of the staff, and the campers are amongst the happiest, most understanding, and generous people she has ever met. She loves the mission of Camp Royall and the beautiful grounds. Cindy is blessed with a great husband and two amazing daughters and has lived just north of Pittsboro for more than 20 years.
Sara Gage, Social Recreation Services Director
Sara started as a counselor at Camp Royall in 1997. She became Program Director in 2007 after filling just about every other role available at camp. After receiving her master's in special education from East Carolina University, Sara served as a special education teacher in the public school system for three years. Sara takes great pride in how Camp Royall has evolved over the years and loves working for ASNC. Sara is thrilled to be able to take what she has learned at Camp Royall and create new social recreation programs across the state. She feels grateful for the chance to work with so many awesome campers, families, and staff all year long.
Laura Belmar-Ramos, Fellow
Laura began working at Camp Royall in 2014 and has served as a Residential Counselor and Activity Director every summer since. She recently graduated from the University of Puerto Rico – Rio Piedras Campus with a B.A. in political science. Laura decided to move to North Carolina to continue working at Camp Royall. Laura is looking forward to spending her time as a Fellow assisting individuals with autism and their families through camp's year-round programming. Camp Royall is her absolute favorite place on Earth!