By Ryan Breslin, Spectrum News, Thursday, August 10, 2017 at 06:46 PM EDT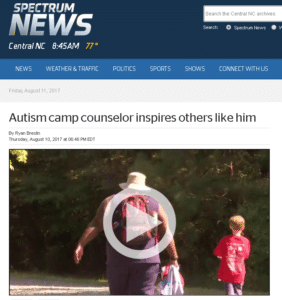 CHATHAM COUNTY — "I want to give back to what camp gave me when I was little," said Rico Thorpe.
Thorpe is a 23-year-old Raleigh native and has autism. At a young age, he was non-verbal and admits communicating his feelings was really difficult for him. He thinks back to a time when that changed, both his speech and emotions, and says it's thanks to Camp Royall.
"Growing up, camp gave me acceptance that I can just freely be myself and love, unconditional love."
The Autism Society of North Carolina's runs the camp which sees 350 campers throughout the summer, providing overnight and day camp for those of all ages on the spectrum in the state.
The society itself formed in 1970 and parents found it difficult for their children to participate in recreation programs in the community. Two years later, they started a summer camp and took kids camping. Evolving since then, the Autism Society started renting property for camp in the 80s and opened Camp Royall in May of 1997.
In the last 20 years, the camp has expanded to being year round. Not only do they have summer camp, during the rest of the year the organization holds weekend retreats, family fun days, an after school program, and they celebrate World Autism Awareness and Acceptance Day.
For those like Thorpe, the camp is a place to grow yet he's a bit unique.
"I think Rico is our only camper who's become a counselor," said camp director Lesley Fraser.
Thorpe volunteered, advocated for himself to work with campers, shadowed staff, and finally became a camp counselor in 2015.
Autism Society Director of Communications David Laxton remembers Thorpe when he couldn't speak and says he's an example of the kind of progress they hope the organization is providing.
"You hope that that's the type of outcome that everyone can have. And I think that also he's an inspiration for not only the campers but he is sharing the story with the parents so he's giving them inspiration to dig a little bit deeper with their kids. To push them to move beyond their comfort zone and continue to learn a little bit more," said Laxton.
And Thorpe's journey with the camp continues to grow. On Wednesday, Camp Royall offered him a position to live on site and help with year round programs.
It's a fulfilling reminder for him of what he's overcome and where he is now.
Choking up, Thorpe said, "I always wanted to do that and then my dream came true. I'm sorry, I'm a little emotional, but I love it here."
The Autism Society of North Carolina says they have about 2,000 – 3,000 people who receive services or access Camp Royall every year.
Autism camp counselor inspires others like him