It's Autism Awareness Month! Many of us like to show our support through our clothes, accessories, or even hair. I wear the puzzle symbol wherever possible, whether as jewelry, on clothing, or as nail stickers.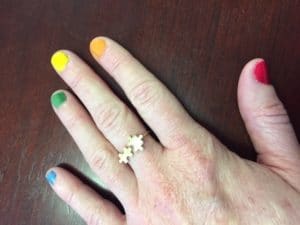 Some people wear rainbow colors, symbolizing the diversity of the autism spectrum. My friends at the Autism Society of North Carolina like to wear the green of their organization, symbolizing growth, endurance, and hope. For a lot of people, blue is the color they choose in April. I don't mind the blue, since most people who are diagnosed with autism are male, however, I know, deep down, that there must be just as many girls as boys with autism. There have to be. So as one of the "1 of 4," people with autism who is female, I grin and bear it when I don blue. It gives support to my autistic brothers (and sisters) as well as their parents, caregivers, and professionals, which I also am. So I flaunt the blue… showing love… but I truly and deeply feel the pink. Blue, outside. Pink, inside. Feel. The. Pink. Own that pink!
Hiding behind the blue is sort of a metaphor for being a girl on the spectrum. I am not seen nor represented. Speaking from personal experience, the autism didn't show for me. I hid behind a mask of normal until it got hard. During times requiring social flexibility, the awkward would come out, so I would learn to dodge them. These awkward times include anything requiring conversation in a group setting, job interviews, dating, getting help at a store, you name it.
Regardless, I passed through my youth and adulthood without a hint of speculation. However, I was an outcast for sure. Instead of being thought of as having a disability, I was given all sorts of other labels. Professionals would pull out their large books and call me fancy textbook names. Bullies applied labels as well. They didn't need tomes, though. Not sure how "Weirdo" or "Mary, Mary Big Fat Fairy" (ugh…) replaces "Manic Disorder," but there you go. But I can hide the weird better than a child can hide a bad report card!
I'm telling you, there are a lot of girls who go unnoticed. We need to be noticed so we get interventions and support like boys, but in a different way. We struggle socially, and it can greatly impede us in interpersonal relationships, work settings, and having a sense of identity. However, in the classroom, we do not show it as boys do. We do not act out our difficulties, so you do not see it. Our parents can overcompensate for our seeming awkwardness or anger. However, when it comes to natural interaction, we are the ones on the side. We "help in the kitchen" or interact with the pets at parties and social functions. We kick at the dirt or pick our nails at recess. We will drag adults away from other adults to converse so we can avoid our peers. Look for us.
I wonder how many females get diagnosed after figuring it out themselves they have it. I wonder how many females are diagnosed as children due to extreme behaviors. Males can run the gamut for extreme behaviors but seem to show the mannerisms that we associate with autism: physical movements, face expressions, anything outwards in general. They can be mild-mannered but are still spotted. Females can hide until they blow up and get in trouble. I wonder how many mothers of boys with autism find out they have it upon reading about it.
I am intrigued to hear from the mothers and females on this site. Could we start a conversation?
Mary Janca works as an educator for individuals with autism and their families.  She is on the autism Spectrum and uses her own insight to connect with others and guide them to understanding autism in ways that trainings and literature may not reach.
She has been teaching college, high and middle school for over 20 years to students of all types of learning styles. She holds a Master's degree in Special Education: Emotional and Behavioral Disorders and has state certifications in multiple high school and middle school subjects. She has also been involved in many agencies as either a helper or receiver, including: ASNC, TEACCH, Vocational Rehabilitation, and specialized school environments. Her goal is to be able to help in as many settings as possible, because there is such a high need for educators. 
Mary enjoys the quirks of having autism but appreciates being able to connect with others. She goes through many of the trials that most individuals on the spectrum face, including trouble with taking the perspective of others, following expected behaviors, and managing emotions. She hopes to keep learning about the field of autism, so that she can continue to reach out and help others.
Tags:
ASNC
,
autism
,
autism advocacy
,
autism awareness
,
autism girls
,
autism nc
,
autism north carolina
,
autism social skills
,
autism society north carolina
,
autism society of NC
,
Autism Society of North Carolina
,
Autism spectrum
,
Autism Spectrum Disorder
,
autism support