We can address your professional development goals
ASNC's Clinical Department provides autism training – from introductory to in-depth and multi-day – on a wide variety of topics including but not limited to:
Addressing challenging behavior in school settings
Best practices in instruction for students with autism
Strategies to promote social understanding
Basics of Applied Behavior Analysis
Integrating evidence-based practices
Supporting students with autism in regular education settings
Promoting social engagement in young children with ASD
Building functional skills in adults with ASD
We customize our trainings to address your goals.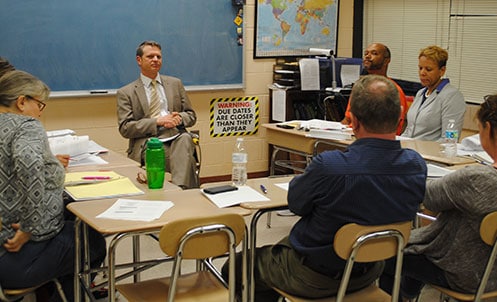 Who do we train?
Our workshops are tailored to professional groups across the state including but not limited to early intervention clinicians and instructors, K-12 regular and special education teachers, school administrators, community-based service providers, residential service providers, health-care professionals, vocational rehabilitation and employment supports professionals, emergency responders, and post-secondary educators.
Going beyond the workshop format
We also offer follow-up projects and site-based coaching as features of the professional development autism training package. Our clinical professionals will support your staff in implementing instructional interventions and behavioral strategies that are proven to be effective for individuals with autism. A variety of specialty and individualized autism training options are available.
Contact us:
919-865-5077
clinical@autismsociety-nc.org