Improve lives and support families with just a few hours of your time by volunteering with ASNC. You or your group can volunteer for one-time events around North Carolina and recurring opportunities in our offices or at Camp Royall, outside Pittsboro. Volunteers must be 16 years of age or older. In general, volunteers do not work directly with individuals on the autism spectrum.
Special Events
The majority of our volunteer opportunities are for our statewide Run/Walk for Autism series. Volunteers are also needed for other special events throughout the year. You can promote the event, recruit participants, help assemble materials, and serve key roles during the event.
Camp Royall
Located near Pittsboro, Camp Royall is a 30-minute trip from Chapel Hill and Raleigh. Camp Royall volunteers fulfill a variety of duties, including landscaping and facility maintenance, working with campers and families, and fundraising. Email the camp staff to learn more.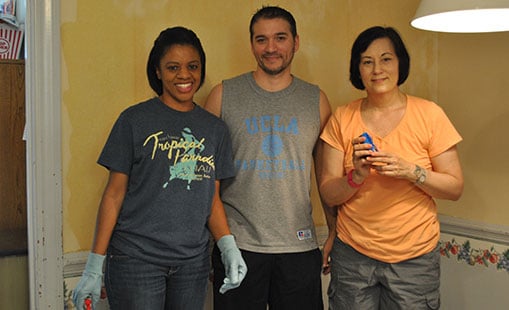 Social Recreation programs
Our Social Recreation programs in Newport, Wilmington, Winterville, and Brunswick County offer a variety of volunteer opportunities, including landscaping and facility maintenance, working with campers and families, and fundraising.
A Lifetime Together Campaign
You can plan your own fundraiser to provide much-needed scholarship funds to improve the quality of life for people with autism and their families. Scholarships can send campers to Camp Royall, provide respite or training for families, provide one-on-one tutoring to individuals with autism, or give adults ongoing job-skills training.
Support Groups
Our Support Groups are led by generous parents or family member volunteers who join together with other concerned individuals to create a welcoming and inclusive community of support for people with autism and their families.
Campus Clubs
Our Campus Clubs at six NC universities are made up of student volunteers who join together to improve the lives of individuals on the spectrum and their families in their local communities. Students with all levels of experience are welcome to join in efforts to host events and fundraisers, advocate for awareness and acceptance, and deepen their own experience.
Committees
For a longer term volunteer opportunity, consider applying to join one of ASNC's committees. Non-employees may contribute their time and talents on ASNC's diversity, human rights, and quality improvement committees.
Contact us:
Heather Hargrave, Associate Director of Development
919-865-5057
hhargrave@autismsociety-nc.org