Win a restored 1967 Camaro
Buy a chance at a restored Camaro and improve the lives of individuals with autism at the same time! The Camaro was restored by Premiere Communications and Consulting, Inc. and features LS1 engine & transmission; Viking coilover adjustable front shocks; QA1 rear shocks; 4-wheel disc brakes; a new positive traction rear end; subframe connectors; CalTrac suspension; new interior seats, carpet, and headliner; a new dash cluster; and a new sound system.
Raffle tickets are $100, and all proceeds will provide services for individuals with autism and their families. Special thanks to Premiere Communications and Consulting for donating the Camaro.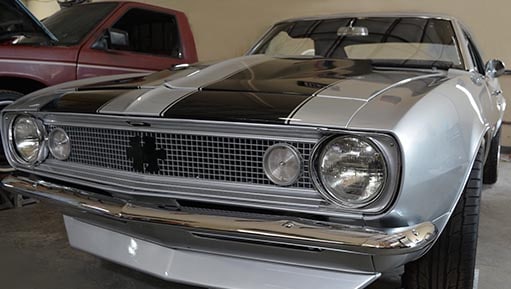 SVRA event to benefit IGNITE
Join the Southern Vintage Racing Association for the 2019 Heacock Classic Gold Cup on September 19-20 at Virginia International Raceway in Alton, VA. The weekend showcases the Vintage Race of Champions Charity Pro-Am race, which will benefit IGNITE, the Autism Society of North Carolina's program for young adults with high-functioning autism or Asperger's syndrome. IGNITE was founded by the Evernham Family Racing for a Reason Foundation, a nonprofit established by legendary NASCAR crew chief Ray Evernham and his family.
AmeriCarna LIVE Car Show
Join Ray Evernham for the 7th annual AmeriCarna LIVE car show presented by Ingersoll Rand and MSC Industrial Supply Co. on Saturday, Nov. 30. (The rain date is 12/1.) The show is open to all cars and held at Ingersoll Rand's North American Corporate Headquarters in Davidson. Gates will open for car entrants at 7 a.m. and for spectators at 10 a.m.
100% of the proceeds from AmeriCarna LIVE will be donated to the Evernham Family – Racing for a Reason Foundation and go to support the IGNITE community center in Davidson for young adults with high-functioning autism or Asperger's Syndrome.
Events by Friends of ASNC
If you would like to hold your own fundraiser to benefit ASNC, please contact Gillian Hayden at ghayden@autismsociety-nc.org or 919-865-2275.
Farm Weekend in Siler City
Enjoy some fall fun Sept. 28-29 with a pumpkin patch, corn maze, sensory play, quiet areas, and wheelchair-accessible hayride at Huckleberry Trail Farm, 143 Pleasant Hill Church Road, Siler City. Admission is $10 for ages 12 and up, $8 for ages 3-11. Thirty percent of admission will be donated to the Autism Society of North Carolina. Bring or mention this flyer to receive $2 off admission.