Win a restored 1967 Camaro
Buy a chance at a restored Camaro and improve the lives of individuals with autism at the same time! The Camaro was restored by Premiere Communications and Consulting, Inc. and features LS1 engine & transmission; Viking coilover adjustable front shocks; QA1 rear shocks; 4-wheel disc brakes; a new positive traction rear end; subframe connectors; CalTrac suspension; new interior seats, carpet, and headliner; a new dash cluster; and a new sound system.
Raffle tickets are $100, and all proceeds will provide services for individuals with autism and their families. Special thanks to Premiere Communications and Consulting for donating the Camaro.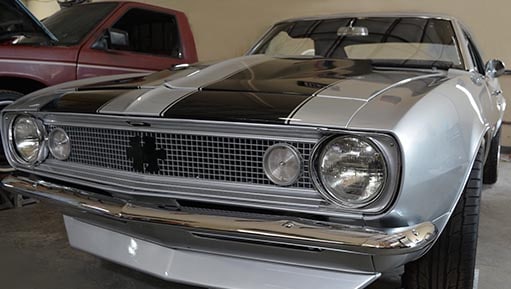 Events by Friends of ASNC
If you would like to hold your own fundraiser to benefit ASNC, please contact Gillian Hayden at ghayden@autismsociety-nc.org or 919-865-2275.
NC Rock Autism Music Festival in Hertford
The NC Rock Autism Music Festival is an annual event geared toward uniting the community to advocate, educate, and raise money to improve lives and support families through the Autism Society of North Carolina. This year's event will begin at 11 a.m. on Aug. 3 at The Crawfish Shack in Hertford, 305 Swing Gate Road.
The all-day, family-friendly festival will include live music, a cornhole tournament, swimming, food, raffle prizes, a 50/50 raffle, a YETI raffle, and primitive camping. The festival will also have an area set aside for individuals with special needs who need a break.
Tickets are $15 presale or $20 at the gate. Free for children ages 6 and under. For more information, call 252-562-8233 or go to www.facebook.com/NCRockAutism.
Autism Awareness Fitness Class in Elizabeth City
Join MixxedFit Master Educator Felisha Harvey for a master class from 2 to 4 p.m. Aug. 17 at VFW Post 6060, 1433 N. Road St., Elizabeth City. Donate $10 toward ASNC to dance and help raise awareness for autism. For more information, see the Facebook event.
Community Bash 2019 in Lumberton
Downright Customs and Biggs Park Mall are hosting a car, truck, and bike show to benefit the Autism Society of North Carolina on Saturday, Sept. 7. The event at Biggs Park Mall, at 2800 N. Elm St. in Lumberton, will start at 8 a.m. and include local vendors and custom shop awards.