Auction to occur during 2018 Barrett-Jackson Scottsdale Auction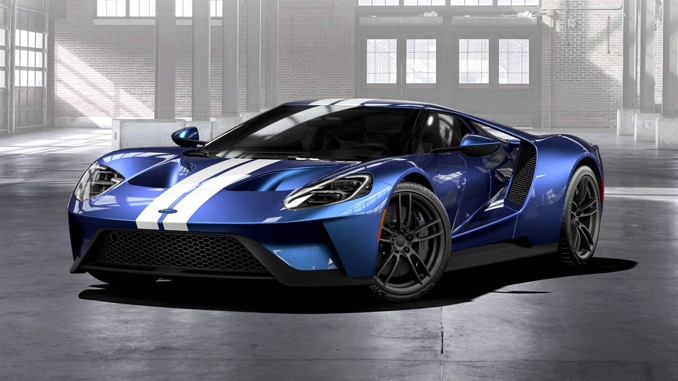 (Via Barrett-Jackson media) SCOTTSDALE, Ariz. – Oct. 26, 2017 – Barrett-Jackson will auction a 2017 Ford GT that was generously donated by businessman Ron Pratte to the Evernham Family-Racing for a Reason Foundation, during the Scottsdale Auction, Jan. 13-21, 2018. The Evernham Family-Racing for a Reason Foundation will sell the supercar during the auction, with proceeds benefiting the Autism Society of North Carolina's IGNITE program, which offers activities, skills training and educational workshops that address the social, financial, educational and employment needs of young adults with high-functioning autism or Asperger's Syndrome. This will be the first current-generation Ford GT that has been donated for charity since the car was introduced.
Ford is also including a Ford Performance Racing School GT Experience that will be included in the auction of the Ford GT. This world-class program will give the winning bidder the chance to improve their driving skills behind the wheel of one of the world's most celebrated supercars, while also supporting individuals with autism.
"Barrett-Jackson raised nearly $1.6 million for charity during our Las Vegas auction last weekend," said Craig Jackson, chairman and CEO of Barrett-Jackson. "To date, we've helped bring over $95 million in donations to deserving people and organizations across the country. We're honored to sell the Ford GT in Scottsdale and bring some much-needed funding to the Autism Society of North Carolina's IGNITE community center. This will be another wonderful opportunity for Barrett-Jackson and the collector car community to give back to some incredibly deserving individuals."
One of the few 2017 model year Ford GTs built to date, this extremely rare liquid-blue supercar was delivered earlier in the year to Mr. Pratte. Ford's all-new supercar is designed and optimized for track performance to honor its racing heritage. The Ford GT couples its extraordinary power with impressive aerodynamic efficiency and advanced active dynamics to achieve a maximum speed of 216 mph – making it the fastest Ford production vehicle on the track ever.
"When Ford Motor Company introduced the Ford GT, they unveiled the car in liquid blue and declared their intentions of racing at Le Mans," said Steve Davis, president of Barrett-Jackson. "In almost storybook fashion, they took first, third and fourth in class in 2016, capturing Ford's first Le Mans victory in 50 years. All of the 2017 model year cars have been sold, and this is an unbelievable opportunity to obtain the unobtainable. The best part is that the new owner will also have the satisfaction of helping a wonderful charity."
IGNITE is operated by the Autism Society of North Carolina with founding support from the Evernham Family-Racing for a Reason Foundation, a 501(c)(3) organization by legendary NASCAR crew chief Ray Evernham. More than half a million individuals with autism in the U.S. will reach adulthood this decade and lose support as they transition from high school. IGNITE addresses this need, focusing on the strengths of its members and providing them with the tools and support to achieve their goals and dreams.
"I would like to thank Ron Pratte for his generous donation and Barrett-Jackson and Ford Motor Company for the opportunity," Evernham said. "My son, Ray J, has Asperger's Syndrome and at 26, he is fortunate to have benefited from IGNITE and to have strong family support. However, many of his peers do not. These young adults may be the next Einstein, Martin Luther King Jr., or person who cures cancer but we will never know if they don't get the help they so desperately need. IGNITE is a program that I started to meet this significant gap in support for young adults.  We named the program IGNITE hoping it would be the spark to create more of these programs around the country. This donation very well could be what we have needed to make that happen."
Over the past decade, several historic Ford vehicles have been auctioned with Barrett-Jackson to support charity, including a 2007 Ford Shelby GT500, 2017 Ford Raptor, Ford Focus RS and 2016 Ford Shelby GT350. Working together, Ford and Barrett-Jackson's auction of this 2017 Ford GT will add to the millions of dollars that have already been raised by both companies for non-profit organizations nationwide.
"We created the Ford GT as a way to innovate across our company while inspiring people around the world," says Dave Pericak, director of Ford Performance. "Over the years, Ford has worked closely with the Autism Alliance of Michigan who, along with IGNITE, supports the efforts to help improve the lives of those with autism.  Mr. Pratte's donation to the Autism Society of North Carolina inspired us to donate an exclusive Ford Performance Racing School GT Experience, giving the winning bidder the ultimate driver instruction in the ultimate Ford Performance supercar."