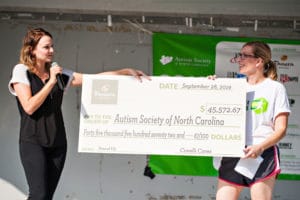 For the past two Aprils, Paneras owned by Covelli Enterprises in central NC have sold special puzzle piece shortbread cookies. Customers loved them, and those sales added up!
Covelli donated almost $46,000 this year to improve the lives of individuals with autism and support their families through the Autism Society of North Carolina. Over two years, their total raised was $74,000. "Everyone really loved the cookies, and the proceeds will go directly back into the communities where the cookies were sold to improve lives, support families, and educate communities," said Kristy White, Chief Development Officer.
The Paneras that participated in the Pieces of Hope fundraiser were in Asheville, Boone, Burlington, Clemmons, Greensboro, High Point, Kernersville, Mooresville, Salisbury, Hickory, and Winston-Salem. Proceeds supported Autism Resource Specialists in those communities, program supplies, JobTIPS, trainings for families, conference scholarships, and more. The Paneras also increased autism awareness by offering educational materials in their stores.
Part of the donation helped one Guilford County family immensely. When Kat's employment situation changed last year, she wasn't sure she could afford to keep sending her son to the Autism Society of North Carolina's afterschool program in Greensboro. The Covelli funds provided a scholarship.
Her son, who is now 19, had attended the program for about eight years, ever since the death of his grandmother, who had taken care of him after school. The program was very important for him "from a socialization perspective," Kat said. He was mostly accustomed to being around adults because he was an only child. The program also helped encourage him to participate in other activities.
"I'm very appreciate of the support," Kat said. "It's been a long journey, and they've been quite helpful in my son growing into the nice young man he is."
Employees of the participating Paneras also visited the Greensboro afterschool and day programs to get to know participants and join them in activities.
Covelli Enterprises is the largest franchisee of Panera Bread, with more than 300 locations in eight states. It is one of the largest restaurant franchisees in the United States, also owning O'Charley's Restaurants and Dairy Queen stores.
"I view it as an honor to be able to help others," said Sam Covelli, who leads the company. "I have been given so much and am so fortunate on so many levels and I never forget that."
Tags:
ASNC
,
autism acceptance
,
autism fundraiser
,
autism nc
,
autism north carolina
,
autism society north carolina
,
autism society of NC
,
Autism Society of North Carolina
,
Autism spectrum
,
Autism Spectrum Disorder
,
autism support
,
Developmental disability