Since I wrote my last blog, What's Speech Got to Do With It?, in 2019, my son, along with the rest of the world, went through a rollercoaster cycle of emotions due to the pandemic, ranging from fear, insecurity, isolation, and utter frustration. His volunteer activities as well as other outside activities came to a halt, as we were all catapulted into as world where the COVID pandemic did not leave anything untouched.
No staff, no support, no opportunities, no security… a sense of loss, fear, and uncertainty was on the rise. There was also divorce and a major loss in his family, so along with other emotions he was facing daily trauma and stress. stress.
One thing that was clear, even during the pandemic, was that my son was tactile stimulation seeker. He was active with his hands – playing with cards and stacking them, manipulating beads, fiddling with paper to soothe his self-stimming sensory needs. We wanted him to use this attribute of his as a strength and gain vocational skills to advocate for himself.
With help of supported employment services, he was able to hone his skills, create and launch his own business, and turn it into a micro enterprise! More than that, he made his mark!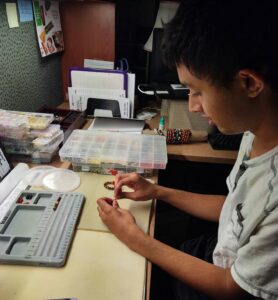 With a structure and routine program that was created at home, he started making bracelets with lot of guidance and support. In 2020, his business was incorporated, state recognized, and registered. Since he had innovations Waiver services, he was eligible for Supported Employment, which aids in providing meaningful employment, increasing self-worth, building relationships, and accessing community resources. For more information about supported employment, please visit this page from NC DHHS.
The initial step was to give structure to his activities and name to his business, so an LLC was created in 2021, a name chosen, and a website created. The next step was to launch him in the community; as the world reopened after the pandemic, more opportunities presenting themselves.
The first launch was on our front lawn, selling lemonade and inviting our friends to come help support his business. We raised funds for his business, which was very motivating, but the most important thing was he was getting recognition for his special abilities! A local spa and community partner decided to host an event for him, displaying his bracelets at their location of business, and that opened doors to more wonderful avenues.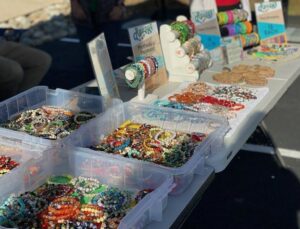 Another community partner, ZABS Place, offered to support him through their ZABSpreneur program. They are the most amazing folks, constantly working on shining a light on the special abilities of our special population, providing them supports, vocational guidance, and unconditional acceptance! We even got a chance to participate in their annual pajama walk event in October 2022, where we raised funds for his business. Other community partners include his chiropractor, Active Chiropractic, and Plantation Market, where he has volunteered.
After finding support with these local community partners, he showcased his business at AmeriCarna LIVE, the car show that benefits the Autism Society of North Carolina's IGNITE program. His business was recognized and admired by thousands of folks who attended and supported him that day. They helped him fundraise for IGNITE, which offers such valuable guidance to autistic adults!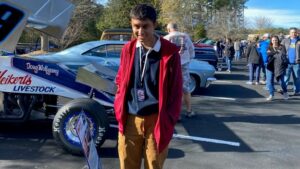 I know this is only the beginning of a long road of prosperity and success for my son. He is out in the community, volunteering as before, attending his therapies, learning, and growing and spreading the joy that he adds to this world – one bracelet at a time!
Shagun Gaur is an Autism Resource Specialist in the Charlotte region. To connect with the Autism Resource Specialist near you, click here. 
Tags:
ASNC
,
autism
,
autism behavior
,
autism employment
,
autism north carolina
,
autism support
,
COVID-19