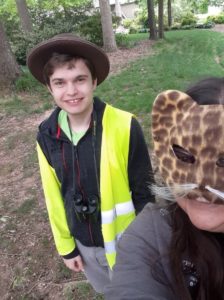 As a Direct Support Professional working with a young adult on the spectrum, I found myself looking for ways to offer fun and engaging structure during this season of unavoidable change. Particularly, I wanted to build a new routine that wouldn't replace our previous busy schedule of community outings and routine volunteer commitments, but rather be an exciting new adventure that we could embark on for a little while. The ultimate goal would be for life to return to normal, but why not try to have as much fun as possible until then?
This is what led me to adopt what my client and I call "themes" for each day, centered on topics my client has expressed interest in. That means adding "themed" activities for that day only (e.g., virtually exploring Mars for "Space Day") but also finding a way to incorporate our regularly scheduled activities and goals into our theme as well. Nothing is too small or silly to be "themed." In fact, I have found that my client is more likely to be interested in participating in more challenging activities (such as conversation games and chores) if I find a way to make them fit our theme!
Although I am referring to my experience solely, I am hopeful that these ideas can provide others with something new to try during this challenging time. You can come up with themes to fit your client or loved one's specific interests, providing as much structure as possible to make it an enjoyable time for everyone involved.
How we make our themed days happen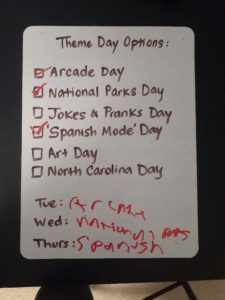 At the end of each week, I develop a list of potential themes based on topics my client enjoys and ask him to pick our themes for the following week. In the beginning, these options were broad topics such as "Disney Day" and "Virtual Travel Day" to ensure I could find enough content to fill our days. Nowadays, I introduce more specific topics such as "Dinosaurs & Extinct Animals Day" and "Fireworks Day," because after over a month of "themed days," I feel confident in our ability to find enough activities for a full day. (I also want to make sure we do not run out of themes during this time!)
We have also started including actual "celebrations" as our themes such as "World Earth Day" and "World Art Day." I have found that my client enjoys having a themed day that the whole world is sharing with us! This has also expanded our list of potential themes and allowed my client to explore topics he may not have been interested in previously. For example, I wasn't sure whether he would take to "world Health Day," but he still talks about it. Additionally, big events such as Earth Day will come with live events and extra activities you can find all over the internet, which will simplify the schedule-making process.
Here are all of the themed days we have had so far:
Virtual Travel Day
Zoo & Animals Day
Space Day
Disney Day
Languages Day
Dr. Seuss Day
Under the Sea Day
Bugs, Birds & Butterflies Day
Farm Day
World Health Day
Fireworks Day
Plants & Nature Day
Videogames Day
World Art Day
Dinosaurs & Extinct Animals
Roller Coaster Day
World Earth Day
Safari Expedition Day
Arcade Day
Spanish Day
National Parks Day
Finding resources and activities related to our themes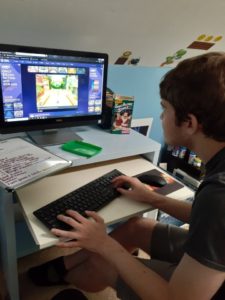 Once my client has picked the themes for the following week, it is time to check online resources for links and activities that we can include in our schedule. Most of the time, a simple Google search will bring up enough hits for us, but I also look for YouTube videos, simple worksheets on TeachersPayTeachers and Pinterest, and even Google images for simple graphics that might help illustrate complicated concepts. Although my client prefers virtual tours and do-it-yourself exploring sites, you can also look for crafts and even coloring sheets that fit your theme. You can also ask others for ideas. My client's dad always suggests theme ideas and finds games that fit our daily theme – and sets them up! He has even started buying puzzles with our future days in mind and is fully involved in our daily adventures. Who better to ask for help than those who know my client best?
One way to find content for themed days is to bookmark articles that include virtual resources for stay-at-home fun. You might not expect it, but I have found my most helpful resources from friends sharing on Facebook. In fact, that is where I first came across these two master lists I am still using:
I do my best to not repeat tours, yet there are still some links from these two lists we still haven't used! If all else fails, however, I will just google "'____ virtual tour" and more often than not, there are already national parks, museums, and even botanical gardens you can visit online to learn more about a certain topic. There are also tons of wildlife tours and 24/7 cams inside zoos to watch animals in real time. There's truly a never-ending supply of fun content out there!
I do recommend that once you find some appropriate content, you open each link beforehand and explore it, verifying it is entertaining, clear, and presented at the appropriate level. I make sure most of our YouTube videos have subtitles so we can watch them while muted. Even if it's an interesting topic, sometimes too much talking and background noise can be overwhelming, taking away from the experience. Most videos geared toward children tend to use simpler terms and fewer words. During my client's morning break, I will open each link so it is ready for him to manage on his own without added stress or unnecessary waiting. If all YouTube videos have loaded and virtual tours are ready to go, your experience will be smoother and less anxiety-provoking!
In charge of his own adventures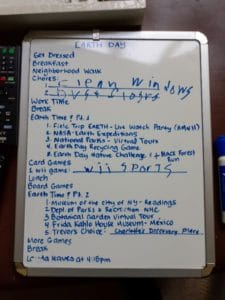 The goal is for my client to be in charge of his own adventure, navigating by himself and clicking on what interests him. Which is why you also want to offer choices whenever possible, ensuring you include your client in the decision-making process! It might seem silly, but I even ask my client what color Expo marker he wants me to use on his schedule for the day. During this very uncertain time where his favorite places are closed and he can't follow his typical routine, every little choice helps him take back some control over his day, while also promoting independence.
Now, you may wonder where will we go from here? I must admit I often think about what will happen if I ever run out of themes and ideas for us. However, I have started planning. For example, I already know I will do a "VIP Week" or "Blast from the Past" week in which he can bring back favorite themes for a second time. Although we already had an "Animals Week" (sort of), another idea would be to have entire week dedicated to exploring one big topic and dividing it by day. For instance, science topics or even specific languages per day. Perhaps a "World Week" to pick a continent to "visit" per day. At first, I just wanted fun, engaging content; now that it has proven successful for us, I am doing my best to incorporate instructional activities as much as possible.
The icing on the cake
Lastly, I want to add that this experience has proven to be a great opportunity to grow my relationship with my client. If you had asked me before, I would have said my client obviously loves cats, videogames, and anything Disney, but these last few weeks have allowed me to dig deep into his interests and what makes him the amazing person he is. Not only is he the funniest and silliest 24-year-old I have ever met, he is also a thrill-seeker with a huge soft spot for animals, nature, and the entire world around him. Although the circumstances behind this new adventure of ours are unfortunate, I couldn't be luckier to get to spend my days coming up with new journeys for us to embark on together. I sincerely hope others get to experience this same thing.
Tags:
ASNC
,
autism
,
autism nc
,
autism north carolina
,
autism society north carolina
,
autism society of NC
,
Autism Society of North Carolina
,
Autism spectrum
,
Autism Spectrum Disorder
,
Autism Spectrum Disorders
,
autism support
,
Developmental disability
,
direct support professional