The Autism Society of North Carolina is proud to announce a new logo, featuring the state of North Carolina. This new logo represents our commitment to serving individuals, families, and communities across the entire state.
Previously, the logo was a three-dimensional puzzle piece. This logo reflected our ability to provide connections to services and resources and the collaborative relationship between autistic people, their families, professionals, and communities. With its three-dimensional shape, this image showed that there was more than one way to view autism, given that each person's experience is so different.
To ensure that everyone feels included, the Autism Society of North Carolina spends a lot of time listening to autistic individuals and families to truly understand the backgrounds, needs, and preferences of those we serve. We serve an incredibly diverse community, because each individual and family has unique needs. We believe our communities are their best when everyone can participate and everyone's lived experiences are considered and honored in decision making.
One important item of feedback that we have heard, particularly from autistic adults, is that the puzzle piece is no longer an appropriate image for our community. Autism is not the puzzle that it was considered to be in the 1960s when the puzzle piece became a widely recognized symbol for autism worldwide. A diagnosis of autism has nothing to do with a person's ability to "fit in" to a community, and there is not a missing piece to be found. Every person is unique, and every person deserves to build their best life.
Because we want to be as inclusive as possible, and because we want to reiterate our commitment to the entire state of North Carolina, our logo is changing from the puzzle piece to the silhouette of the state. We would not want anyone to see a symbol that they may find offensive and feel that they couldn't connect with us. The Autism Society of North Carolina is a lifelong partner, and we want everyone to feel welcomed when they access supports and services through our organization.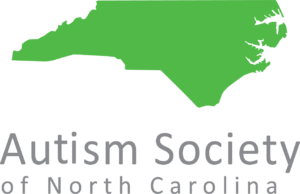 Our new logo will be implemented in phases, with changes happening online first at the end of August. Because our primary commitment is to providing services, programs, and resources, we will continue to focus on that work and use a phased approach to update our building and program signage across the state.
Our changing logo follows shifts we have made in the last year related to language and terminology. For many years, organizations recommended using person-first language (person with autism) rather than identity-first language (autistic person). Many in our community prefer identity-first language because autism is such an important and inherent part of identity. We use both terms, and when we know a preference exists, we use the term preferred by the person being served.
We have also changed how we describe the spectrum and moved away from language related to functioning such as "low- functioning" or high-functioning." We have begun framing the spectrum by support needed. Support needs vary for everyone, whether they are on the spectrum or not. One person may need little support with academics or work tasks but need a higher level of support for social skills and managing emotions. Another person may need more support with communication but less support for daily living activities. As all individuals work toward their unique goals, the levels of support needed will change, so this approach allows us to stay flexible with describing services and programs.
We want to thank all of the individuals, families, staff, and professionals who have shared the feedback and insights that have led to our more inclusive language and logo. We will continue to listen and adjust to ensure that we are meeting our community's needs. This logo change is exciting because it shows how far we as a community have come. There is no stronger community than the autism community, and we are honored to work together with all of you to improve lives, support families, and educate communities.
Tags:
ASNC
,
autism
,
autism north carolina
,
autism society of NC
,
Autism Society of North Carolina