Both House and Senate have passed their versions of SB 105, the state budget. This year's budget contains a mix of state appropriations and allocations of federal funding that has come to North Carolina through several "recovery act" bills. A conference committee of House and Senate budget leaders will work over the next few weeks to reconcile differences between the two budgets before passing the final bill on to the Governor.
The NC House version spends significantly more on some health and human services priority items, like increasing the wages of direct support staff. A brief comparison of items in the two budgets is listed below.
Several Democrats joined Republicans in both chambers voting in favor of the bill, hinting that a potential Gubernatorial veto of the budget (which happened two years ago) could be overridden by both chambers. With the slow pace of the budget process this year, we may not see a final budget until mid-September.
Up-to-date budget legislation, special provisions, and committee reports can be found on the NC General Assembly's home page in the left column. Note that the budget is divided into two documents: 1) the budget bill itself, which includes the language of the "special provisions" that provide guidance on how funding is to be used and dictates additional policy changes and 2) the committee report(s), often called the "money reports," which provide some detail on spending increases and decreases in each budget area.
How you can help – Take action!
We are pleased that legislators are starting to recognize the need to address the 15,500 people on the waiting list for services, the need to pay the direct care workforce a competitive wage, as well as the significant lack of special education resources.
We need to make SURE that rate increases for DSP wages (House), increases to the special education funding cap (House), and the special education appeals language (Senate) stays in the budget! 
Please contact Senate and House Budget Leadership listed below to advocate for the following budget priorities:
Thank them for recognizing the need for supports and services for people with autism with additional of waiver slots and the special education ADM fund.
Urge them to use the House funding numbers for recurring funding to increase the wages of direct support staff across community services so the new waiver slots (and other services) have staffing.
Urge them to use the HOUSE numbers for Innovations slots and increase the minimum number of waiver slots to 2,000.
Urge them to keep the House provision to increase the special education funding cap to 13% and to study funding for special education in the House version of the budget.
Urge them to keep the Senate provision on special education due process hearings.
Continue to emphasize that people with autism need other services and supports: talk about what YOU need and/or see our list of legislative targets.
Email or call budget chairs! Prepare a short statement using our Advocacy Tips Sheet or Advocacy 101 Toolkit. BE BRIEF, BE RESPECTFUL.

Introduce yourself and how you are connected to autism.
Tell them your story of how having, or not having, services is affecting you. Tell them about the importance of high-quality, consistent, caring staff, and/or talk about your experiences with education/schools.
Use the talking points above to ADVOCATE for House and Senate budget provisions.
Senate and House Budget Leadership
Senator Brent Jackson representing Duplin, Johnston, Sampson
Office Phone: (919) 733-5705  Email: Brent.Jackson@ncleg.gov 
Senator Kathy Harrington representing Gaston
Office Phone: (919) 733-5734  Email: Kathy.Harrington@ncleg.gov
Senator Ralph Hise representing Madison, McDowell, Mitchell, Polk, Rutherford, Yancey
Office Phone: (919) 733-3460  Email: Ralph.Hise@ncleg.gov
Senator Joyce Kraweic representing Davie, Forsyth
Office Phone: (919) 733-7850  Email: Joyce.Krawiec@ncleg.gov
Senator Jim Burgin representing Harnett, Johnston, Lee
Office Phone: (919) 733-5748   Email: Jim.Burgin@ncleg.gov 
Senator Jim Perry representing Lenoir, Wayne
Office Phone: (919) 733-5621  Email: Jim.Perry@ncleg.gov
Senator Deanna Ballard representing Alleghany, Ashe, Surry, Watauga, Wilkes
Office Phone:  (919) 733-5742 Email: Deanna.Ballard@ncleg.gov 
Senator Michael Lee representing New Hanover
Office Phone: (919) 715-2525   Email: Michael.Lee@ncleg.gov 
Representative Kristin Baker representing Cabarrus
Office Phone: 919-733-5861   Email:  Kristin.Baker@ncleg.gov
Representative Larry Potts representing Davidson
Office Phone: 919-715-0873   Email: Larry.Potts@ncleg.gov
Representative Wayne Sasser representing Stanly, Cabarrus, Rowan
Office Phone: 704-982-8003   Email:  Wayne.Sasser@ncleg.gov
Representative Donna White representing Johnson
Office Phone: 919-889-1239   Email: Donna.White@ncleg.gov
Representative Donny Lambeth representing Forsyth
Office Phone: 919-733-5747   Email:  Donny.Lambeth@ncleg.gov
Representative Jason Saine representing Lincoln
Office Phone: 919-733-5782   Email:  Jason.Saine@ncleg.gov
Representative Dean Arp representing Union
Office Phone: 704-282-0418   Email: Dean.Arp@ncleg.gov 
Representative Jon Hardister representing Guilford
Office Phone: 919-733-5191 Email: Jon.Hardister@ncleg.gov
Representative Pat Hurley representing Randolph
Office Phone: 919-733-5865  Email: Pat.Hurley@ncleg.gov
Representative John Torbett representing Gaston
Office Phone: 919-733-5868 Email: John.Torbett@ncleg.gov
For a full list of the budget conferees please see https://www.ncleg.gov/Legislation/Bills/Conferees/2021/S105
Budget Comparison Highlights
 View our budget comparison as a PDF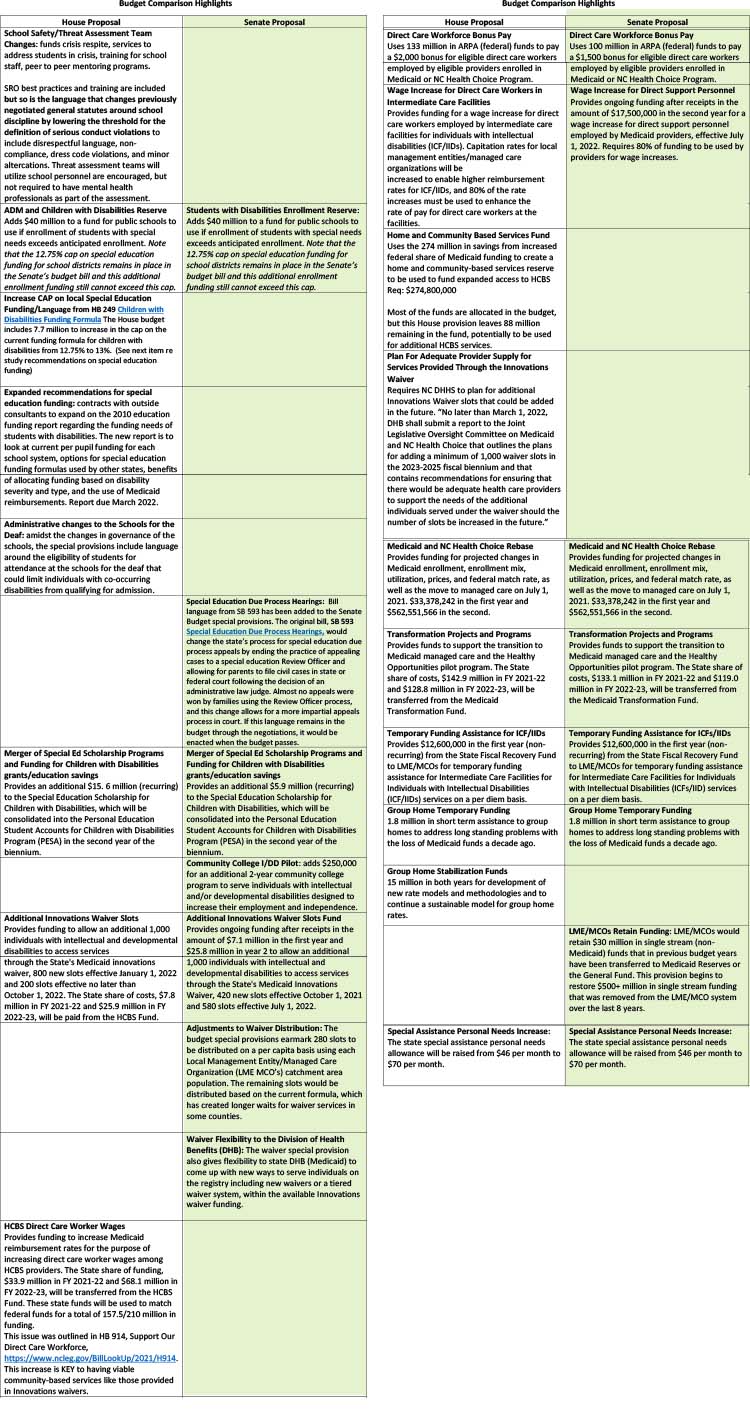 The following items were NOT included in EITHER budget
Health Care Coverage Gap in NC: the Senate budget does include funds in extend coverage for post-partum women for 12 months, and to allow parents of children in foster care to retain coverage if they meet certain requirements, but it does not address the overall gap in affordable health coverage for people who do not qualify for health care tax subsidies, qualify for Medicaid, or have coverage through an employer or family member.
Please contact Jennifer Mahan, ASNC Director of Public Policy, jmahan@autismsociety-nc.org for assistance connecting with your elected officials and other questions about advocacy.
Tags:
Autism Society of North Carolina
,
direct support professional
,
legislation
,
NC state budget
,
North Carolina General Assembly
,
public policy