The Autism Society of North Carolina's newest day program for adults, Ascend, opened in Asheville in February.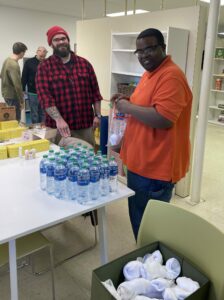 For Michael LePage, Regional Services Director, a day program for the Asheville area is a long-held dream. "Every year, people are graduating and falling off the services cliff," he said. "It's tough without those supports and natural structures. But we can offer a meaningful program. Participants can contribute to the community in a meaningful way and families will have a meaningful alternative for respite."
In the earliest days of the program, participants were already engaged in volunteer projects to help their community. With the help of local high schoolers Ben LePage and Samantha Harrell, who designed a service project to help people experiencing homelessness in Asheville, Ascend participants prepared care packages of supplies for people in need. The bags included food and drink, toiletries and personal care items, and new socks. LePage and Harrell provided visual instructions, helped to pack the bags, and explained the importance of these bags to participants: "We're working to make people feel good about themselves," Harrell said.
A Meaningful Day: Skill-Building and Community Engagement
After the Ascend participants finished preparing care packages, they played word games and practiced sign language to build communication skills, engaged in an art activity, and then they went to the park to play games.
Ascend Program Director Jordan Hall said this mix of skill-building, creative expression, wellness activities, community exploration, and volunteerism will be typical for participants, and she emphasizes that the participants will play a major role in identifying the activities and outings that are relevant to their interests and goals.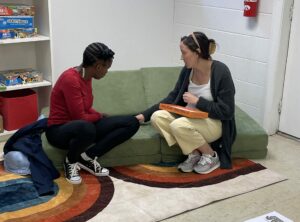 "We will listen to what our participants want out of this experience," Hall said. "We'll always be asking what they want to do and what they want to learn. Our goal is to present meaningful learning opportunities and fun activities and have a well-rounded program."
While Ascend's program space is vibrant – the walls are already covered with participants' artwork, informational sheets on job searching, and shelves full of games – Hall envisions that participants will spend about half their day in that space and the other half of their day in the community, volunteering, enjoying a community excursion, or exercising in a local park.
"One of our main goals is to expand our participants' view of the world," said Hall. "We may be working with people who haven't had the opportunity to explore their interests or to see everything that is out there. We are hoping to introduce participants to opportunities so they can find the things that excite them – whether that's a new hobby, a new place they like to visit, or a new career."
A Diverse and Committed Staff
When Hall started at the Autism Society of North Carolina's Asheville office in 2021, LePage showed her where the Ascend program would eventually be. Hall says that seeing the space inspired her and motivated her to work towards leadership in the program. After immersing herself in Asheville's services, Hall was promoted to program director.
"Jordan is absolutely the best person to lead Ascend," LePage said. "She has a real concern for the best outcomes for our participants."
Joining Hall is a staff of committed and caring staff, including several staff members on the autism spectrum.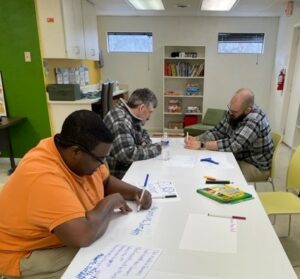 Andrew Claire said that his neurodiversity provides him with a unique point of view and understanding of Ascend participants.
"A big part is learning to listen to the variety of ways our participants communicate," said Claire. "Everyone expresses themselves differently, and we as staff learn how to respond to what they tell us."
Claire enjoys helping participants work on a variety of skills, from communication to wellness. "We're working on things that will make life easier, both for the participant and their caregiver," he said. "But we're also having a lot of fun – playing games in the park and exploring the Nature Center." Claire is excited about expanding opportunities for participants to volunteer at local non-profits and planting a community garden. "Every participant can choose things they want to work on," he said.
Acknowledging History
Ascend will be officially dedicated to Sara Handlan and Galene Fraley, who LePage called "the original autism experts in town." Both worked in Asheville's UNC TEACCH program and helped parents, teachers, and professionals understand autism at a time when few resources were available and knowledge was limited.
Catherine Faherty, a colleague of Handlan's and Fraley's, wrote that the women were "architects of a new paradigm of attitudes and practices for professionals in their relationships with autistic people and their families. This attitude, simply put, is the unequivocal understanding that all autistic people are to be respected, that there is a reason for any and all behavior, and that our teaching strategies and responses must be based on a deep listening and learning from the individual with autism."
LePage said that ethos drives the Asheville office and its offerings today. "It's important to recognize our history and all the work in the autism community that came before ours. We're all standing on someone's shoulders, and in Asheville, we especially stand on Sara and Galene's shoulders. These two did so much for our community and we don't want that to be forgotten."
Ascend is accepting new participants! Fill out an interest form and staff will be in touch.
Also in Asheville:
Tags:
Asheville
,
asheville autism resources
,
asheville day program
,
ASNC
,
autism
,
autism resources
,
Autism Society of North Carolina
,
autism support
,
respite