Are you looking for a community of support during these challenging times? Do you wish you could ask questions of other parents or share your child's latest victory with people who will get it? Want to help raise autism awareness in your community?
Join an Autism Society of North Carolina Chapter! We have more than 60 Chapters and Support Groups serving families in 71 counties across the state. Many of them are offering monthly video chats for support and information; see our website calendar for details. ASNC also offers Campus Clubs at five colleges across NC, for students who are interested in improving the lives of people on the spectrum. Our Connections Specialist, Nicole Sevigny, would be more than happy to help you find the Chapter in your area. Call her at 800-442-2762.
Read on for some of the creative and fun ways our Chapter members are supporting each other during this time of isolation.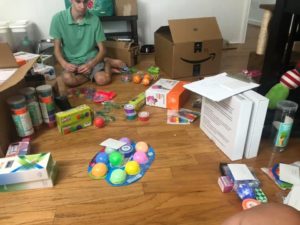 The Person County Chapter has been there for their families and the greater autism community throughout the pandemic. They developed a pen pal program for Chapter families, and Leader Cindy Martin has been sending cards to families and making personal phone calls to check in with them. When the Chapter received a large donation, they decided to use that money to directly support families getting ready for remote and hybrid learning. Cindy asked parents and teachers of students with autism to see what types of sensory supplies could help children get through their school day. She targeted items that could allow for movement and sensory breaks to help children stay focused, especially when sitting at a computer for extended periods. They then ordered items including wiggle cushions, fidget toys, yoga ball chairs, scooters for movement breaks, pencil top chews, chew necklaces, and sensory sacks. They delivered sensory bins directly to families and also to many schools. Parents have told Cindy that the bins are a hit!
The Surry County Chapter didn't let the pandemic keep them from supporting families through their annual school supply giveaway. With a little creativity, Chapter Leader Bridget Soots and her volunteers found a way for everyone to stay safe but still receive the supplies they needed.
The Orange/Chatham Chapter, which has offered a virtual support coffee for parents and caregivers monthly throughout the pandemic, is now offering an additional meeting for autism self-advocates. This meeting gives autism self-advocates (and spouses if applicable) a chance to connect and share ideas. If group members want to explore certain topics, leaders will plan presentations as they do for their parent/caregiver group. Autism self-advocates from across the state are welcome to join in, since this platform is virtual! Check the ASNC website calendar for the link to join the meetings, which occur at 8 p.m. on fourth Sundays each month.
Haywood County Chapter Leader Tenisea Higgins has been busy unpacking lots of Amazon boxes. No, we're not sharing her personal shopping habits – she worked with the ASNC Development Department to secure a grant to build a resource library for her Chapter families. The Haywood Chapter now has $2,500 worth of books and sensory items such as fidget chair bands, weighted vests, and noise-canceling earmuffs that they are lending to families! Parents are saying their children are sleeping better and are more able to concentrate on remote learning with these tools.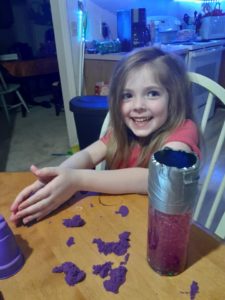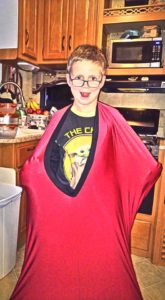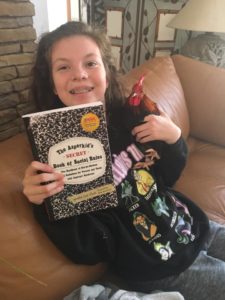 Granville/Vance Chapter Leader Brianne Elliott is leading efforts to start a webinar club for Granville Vance/Franklin Chapter meetings. The September meeting featured ASNC's webinar on Smoothing the Transition Back to School. Families are encouraged to view the webinar before the Chapter meeting, during which they discuss the topic. Other Chapters are also considering this idea, and the ASNC website offers more than 40 free webinars to choose from.

The Bladen County Chapter is conducting a "flamingo flocking" fundraiser this fall! The flamingos have already flocked to a local business and East Bladen High School. They bought some plastic flamingos, which they place in the yard of a "victim" chosen by the donor, along with a sign saying, "You've been flocked," and featuring the ASNC logo.
It's been a challenging semester for college students, but the Campus Clubs are coming up with unique ways to serve their communities. They are holding virtual meetings and brainstorming contact-free service and awareness events. The ECU and UNC-CH Clubs both participated in the Run/Walk for Autism events to raise money and awareness. The UNCG Club designed an autism awareness mask to sell as a fundraiser. The Appalachian State Club is partnering with a local church to make and deliver gift baskets to families who usually participate in a monthly respite program that is on hold because of the pandemic. All of the Campus Clubs are hosting virtual booths at their student involvement fairs to continue to recruit and advertise their clubs; if you know a college student who would be interested in joining, please share this link: www.autismsociety-nc.org/join-a-campus-club.
Amy Seeley can be reached at aseeley@autismsociety-nc.org.
Tags:
ASNC
,
asnc chapters
,
autism
,
autism advocacy
,
autism awareness
,
autism resources
,
Autism Society of North Carolina
,
COVID-19