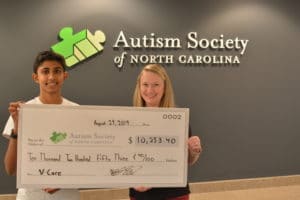 Editor's update: As of fall 2019, Vibhu has raised a total of $10,253.40 to improve the lives of individuals with autism. This article was originally written in early 2017.
At just 12 years old, Vibhu Kumar Subramani is a successful and innovative fundraiser for the Autism Society of North Carolina. Vibhu, who attends Carnage Middle School in Raleigh, raises money by collecting and recycling used cooking oil with the company Key Energy, based in Pittsboro.
The seed for Vibhu's project was planted when he was even younger. In 2010, when he was vacationing at Disney World with his family, he saw a person with autism and wanted to understand more about her. "My parents told me that I could help if my empathy could be turned into contributing my share toward her benefit," Vibhu said.
In a little more than a year, Vibhu has raised more than $300 to benefit individuals and families affected by autism. He spends a couple of hours each month distributing brochures and collecting used oil from households. Key Energy then picks up the oil from his house. The company also collects oil directly from restaurants that have signed a contract with Vibhu. He is then paid for the oil that is collected and donates that money to ASNC.
Helping ASNC is the right thing to do, Vibhu says, and this particular project also benefits the environment by properly disposing of waste oil. In his letter to prospective clients, Vibhu tells them "we can turn the waste cooking oil into bio-diesel and eliminate some CO2 from our atmosphere."
"We are so impressed with Vibhu, who at such a young age has channeled his passion for the environment into helping individuals with autism," said Kristy White, ASNC Chief Development Officer. "He clearly is going to be a strong leader in the future, and this experience will help him toward his goals."
Vibhu says he plans to keep up his fundraiser until he goes to college, "donating to help the people who need help most." He also spends some of his free time volunteering with children with autism.
Vibhu aspires to be a doctor someday, and his compassion for others and his work ethic will surely carry him far.
Tags:
ASNC
,
autism
,
autism fundraiser
,
autism society of NC
,
Autism Society of North Carolina