At a time when many of us are feeling more disconnected than ever, one Raleigh teen is making new connections.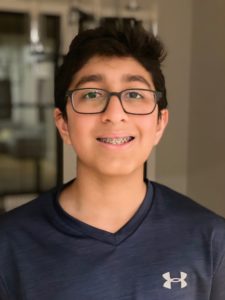 Keshav Patel, who is 13, has known for a while that he wanted to do something to improve the lives of children with autism. Then COVID-19 came and upended everyone's routines – no school, no playtime with friends, no fun outings. Keshav, who has a cousin on the spectrum, understood how difficult that could be for children with autism. "They have a specific schedule, most of them, and when that all goes away so suddenly, it's really hard for them," he said.
Keshav had noticed how much his cousin enjoyed the social interaction of chatting on Facetime. "I thought maybe I could fill that spot for them." The Autism Society of North Carolina helped match Keshav up with a local 9-year-old. They use Google Hangouts to video chat about three times a week, like virtual pen pals.
"It's been wonderful since day one," said Nicole Sevigny, Odin's mom. "I am happy he has someone to consistently talk to every day that isn't myself or his sister. I think he enjoys having someone to relate to that is invested and interested in what he has to say."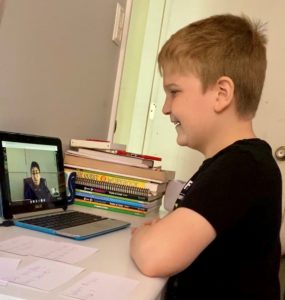 The boys talk about all sorts of things, including interests, hobbies, books, and movies, Keshav said. "We ask each other a lot of get-to-know-you questions, which is pretty fun, and then we develop more of a bond because we know each other better."
Sevigny said the conversations started at the perfect time, preparing Odin for remote learning. "It's been wonderful not only from a social aspect but also to learn new skills," she said. Odin also has learned to write and send emails in between their chat sessions.
The Patel family have been longtime supporters of the Autism Society of North Carolina, holding major fundraisers for several years, said Chief Development Officer Kristy White, and now Keshav is carrying on the tradition.
"We have been so impressed with Keshav's initiative," White said. "Isn't this the community we all want? Keshav helps us remember that even when we're not together, we're still there for each other. We all have so many people behind us."
Keshav hopes to make more video connections and maybe even turn his idea into a club when he attends Raleigh Charter High School next year. "I always love helping people and brightening their day," he said. "It's a really great feeling to know that you made someone's day better or filled a need."
Keshav certainly is making days better for Odin, who said: "No matter where you are, your friend is still there even when he's not!"
Tags:
ASNC
,
autism
,
autism communication
,
autism nc
,
autism north carolina
,
autism social skills
,
autism society north carolina
,
autism society of NC
,
Autism Society of North Carolina
,
Autism spectrum
,
Autism Spectrum Disorder
,
Autism Spectrum Disorders
,
Developmental disability