I type this as a toddler kicks the back of the chair of a passenger two rows ahead of me. As a mother to a child with autism (now an autistic adult), I've felt the shame or embarrassment parents with unhappy little travelers often feel. The need to explain. The frustration of wanting to blend in unnoticed and have family experiences that so many others have in life without meltdowns. I get it. We complicate the experiences of bystanders. You want us to fix what you see as a problem because of how it impacts you. Noisy kid. Two-hour flight. Uncomfortable situation at 36,000 feet.
It may be a lot to ask of someone to ignore two size 13 shoes in their back or the tearful, metronomic scream of "HELP..HELP…HELP!" Even though it's inconvenient, most people are able to keep their cool with a child on an airplane because they know the flight is temporary. And in the past, I have kept my family away from activities because our presence would bother others. But more and more, we are seeing the realities of persons with differences or disabilities and their families who are abandoning self-imposed isolation and teaching their larger communities the sometimes-inconvenient tools of belonging.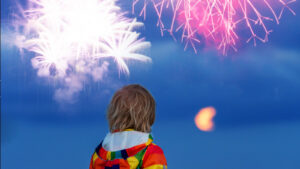 For many years, my family did not attend 4th of July celebrations because of my daughter's sensory issues and the loud bang of fireworks. As time has gone on, though, people are realizing that fireworks are hard for a lot of people. Some of us are adjusting to firework-free celebrations and recognizing the impact of bursts of sound and light on some veterans, some people with sensory differences or seizure disorders, and let's not forget, our beloved pooches.
While some celebrating the 4th of July are accepting of changes, others are not convinced that beloved traditions like fireworks should change. Change impacts people differently. I have lived long enough to experience the shift from corporal punishment to positive reinforcement in families and classrooms, but many people still have the old mindset of using corporal punishment when a child exhibits inconvenient behaviors.
"When my daughter was younger, people would mistake her behavior for disobeying, or being 'bad.' Sometimes her diagnosis was completely dismissed."
When my daughter was younger, people would mistake her behavior for disobeying, or being "bad." Sometimes her diagnosis was completely dismissed. Other times, there was this perception that physical discipline (corporal punishment) has an effect on autism-related behavior.
How many gatherings I turned down because I knew the expectations of others were not within our actions at that time and I did not want the ridicule. Sometimes I was too tired from defending my sweet girl and trying to teach everyone this is not that (bad behavior), this is THIS (autism)! Why would I want to come to the 4th of July cookout and have all the aunties come for my parenting? I love my child and at some level I protected her from harm by isolating us. Hearing someone say your child should know better when they have a disability or difference usually feels more like fighting words than helpful guidance. Being judged against long held standards of parenting children without differences feels defeating. Here's some of what I heard:
They need to mind.
They need to be respectful.
They need to use their manners.
They need to behave.
They don't listen.
Don't they know hitting is wrong?
I won't tolerate that kind of behavior!
You might allow that in your house but not here!
They know what they are doing.
Below, here are some of the things that children often hear from adults when they misbehave. For a minute, try to hear these corrections as a child with disabilities.
Stop acting up!
Act right!
Behave!
Do you hear me?
Do you understand me?
Say "yes ma'am."
Look at me when I'm talking to you!
What is the implication of these words for people with sensory differences? In my perspective gathering, it might make them want to kick the back of that seat even harder…
Correction and punishment imply intent and self-control. People without life altering sensory differences, like me, can benefit from a deeper understanding of autism and actions resulting from sensory sensitivities. We can benefit from an understanding of consequences and outcomes when we use punishers and incorrect interventions instead of supports.
We can try reframing behavior as:
Not intentional
Not personal
Not malicious
Not rude
An indication of something not otherwise being communicated.
Case in point. If I hear/experience the intensity of fireworks exploding when my dad pops popcorn and I hit the nearest person to me and cry out, would spanking me change what I heard? Wouldn't I hear the same thing the next time? Was the intent of my hitting malicious? Your pop-pop or pow-pow does not change what I'm sensing in my world and lacks the appropriate feedback for me to extinguish an undesired behavior.
"I've grown in understanding people who have acute responses to all manner of stimuli from loud noises or invisible sound waves, to flashing lights, or large crowds."
A bystander's experience is often not relatable when it comes to meltdowns for children on the spectrum. If I hit my sister at the sound of popcorn popping, it's only popcorn to them. Why not only cover your ears or leave the area? Well that's what someone who is without differences or autism context thinks before they start to gain knowledge, and accept autism.
We hear "pop" while someone else hears and even feels a bang boom!! We don't hear the bang. Senses don't always make sense. Responses to sensory experiences don't always make sense. Empathy implies that I do not have to feel what you feel or sense what you sense in order to acknowledge it is real to you.
With more knowledge, we become better at supporting one another. When I learned "behavior is communication" it changed how I understood behavior and communication as well as how I respond to both. I have a lot more empathy for all parents with crying kids on planes, trains, and in Walmart carts now. I've grown in understanding people who have acute responses to all manner of stimuli from loud noises or invisible sound waves, to flashing lights, or large crowds. I'm a much more flexible person so that I can meet people where they are, including my daughter.
Others may hold a perception that the old ways of doing things present no harm, and that their preference for how to do things is a personal right that must be protected. Yet deny that point of view to others who disagree with their actions. Fireworks and popcorn are harmless, we say. My desire to have them is innocent, we say. I have the right to celebrate the way I want and if they just were like me we wouldn't have this problem. My mom would have had me over her knee. If they were raised like me I would not have to change. I hope you can hear the issue with this mindset. This error that I even held myself – it ultimately diminishes belonging and no one wins. It keeps our communities small and at odds when one group insists their perception must be the way we do things.
A little acceptance and positive regard can go a long way toward growth in our communities and families. When you see the child with the noise-cancelling headphones or the adult with their fingers in their ears how much of a sacrifice is it really to give up an explosion for their peace? Helping bring awareness to that impact is how acceptance and change occur. It starts with us. There is nothing like having a neurodiverse/autistic loved one to correct our views. To make us care more about communication than correction. If my part is adjusting to firework-free celebrations or other accommodations and modifications, I can do my part. If our part is saying to that mom on the plane "How can I support you?", we can do our part.
We can be kinder to one another. Neurodiverse individuals can live free from the harms of forced compliance and performance for the sake of seeming well adjusted, well mannered, and well behaved while masking themselves and their experiences.
I proudly support my daughter to access her community and while getting there might include some turbulence, I support her right to get there. Today my daughter and I can enjoy many aspects of the 4th together that were out of the question years ago. She is enjoying life more and more by being more freely who she is. I have to attribute some of that to greater acceptance and awareness.
Happy 4th!
RESOURCES 
Clinical Services and Applied Behavior Analysis  
Shutting Down Like an Overloaded Computer (about sensory overload)
Social Pressures vs. Caregiver Needs
Tags:
autism
,
autism acceptance
,
autism advocacy
,
autism anxiety
,
autism awareness
,
autism behavior
,
autism communication
,
autism resources
,
autism social skills