Every day, the Autism Society of North Carolina works directly with autistic individuals and their families to help them build their best lives and achieve goals. For one family in the Greenville area, it was important to attend church together, and Senior Autism Services Coordinator Mackinsay Glover was committed to making that goal possible.
When Graham (name has been changed) was a toddler, he was able to attend a church nursery while his family went to services. In the next few years, Graham struggled with Sunday School and the worship service. Due to anxiety and sensory issues, he would kick or scream. The family opted to hire babysitters for Sunday mornings so that Graham wouldn't be upset or disrupt others during the service. While this was an easy solution, it wasn't ideal for any member of the family – Graham seemed anxious about why he wasn't going to church with his parents, and his parents wanted Graham to have access to friendships through other children in the church and an introduction to their faith.
Graham had been receiving one-on-one direct support services through the Autism Society of North Carolina for a little more than a year when Graham's mom asked Glover, their services director, about the possibility of working toward church attendance for Graham. Glover began working on a multi-step plan that would accommodate Graham's sensory and emotional needs during church activities.
"Mackinsay's attention to detail and her willingness to walk through the plan step-by-step with us was invaluable," said Graham's mother. "Mackinsay communicated extensively with my husband and me about how to make this desire a reality. We met virtually, talked on the phone, emailed, and even texted as we worked on an extremely detailed plan. I think this was the biggest factor in our success – Mackinsay planned everything down to the very last detail."
Glover agrees that communication was key to the process of integrating Graham into his church community. Not only did she meet often with Graham and his family, she also met with Graham's ASNC staff to gather their feedback, and she met with many people from Graham's church and attended services herself to understand what Graham would experience. During her visits to the church, Glover took photos so that she could create a robust social narrative for Graham. The social story included a very detailed breakdown about arriving to church and what he would see and hear during the service. (Learn more about social narratives.)
To begin, the family decided that Graham would attend a service for a small, set period of time, and then leave with his direct support professional at an appropriate break. Graham agreed to this goal, and the family agreed that he could choose a positive reinforcement option for meeting his goal, such as going to a playground or nearby park. Glover also helped the family identify a back-up plan for all elements of the plan, including exit strategies and accommodations and supports Graham might need at certain parts of the service. She also worked with Graham's direct care workers so that they could appropriately support Graham on Sunday mornings.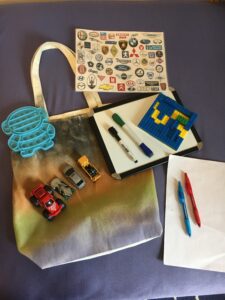 One support put in place for Graham was a church bag. He was able to decorate the bag the way he wanted, and it included items he could use during the service if he was overwhelmed, including fidgets, headphones, and small toys. After a few services, the family and staff identified that Graham needed a way to communicate, so they added a small white board and dry erase markers. This allowed Graham to ask questions or alert his staff if he was ready to leave.
With these supports in place, Graham had success attending services and meeting his goal. A key part to this success was all parties continuing to communicate so that challenges could be addressed. The social story was continually refined and reviewed as the family and staff learned more about parts of the service that were making Graham anxious. For example, there was a moment in the service where the congregation stood, but Graham did not want to, and the social story included a line that it was okay for him to choose what he wanted to do at that moment.
After about a year of church attendance, the family wanted to try to have Graham attend Sunday School before the service so that he could meet more children. Glover and the family revised the social story and plan, and Glover met with all of the Sunday School teachers to understand how to prepare Graham and to provide them with autism-informed strategies for their classroom. The teachers found that her suggestions, such as using visual schedules and adding structure to drop-off time, not only helped Graham, but all of the children in the class.
As with the service, there were a few challenges. For example, a Sunday School teacher once asked Graham to pray aloud, spontaneously, which caused Graham to become upset because it wasn't in his social story. Still, this moment provided an opportunity to teach Graham about self-advocacy – that he was allowed to decline things he didn't feel comfortable doing and make choices about how he participates. Throughout the process, Glover, the direct support professionals, the family, and the church staff remained committed to open lines of communication and revising and updating strategies to ensure that the plan always worked for Graham.
"Having Graham in Sunday School and in the first part of the worship service has been so good for our family," said Graham's mother. "He's gotten to know his peers, and I feel like our church considers him an integral part of our church family. The three of us have been able to pass the offering plates together during the service, and Graham has even helped my husband give announcements at the beginning of the service! These are things that I didn't even think possible three years ago. I'm so incredibly thankful to Mackinsay and the Autism Society of North Carolina for helping our family make this huge transition."
Strategies for other families hoping to become more involved with a church community:
Reach out to church leadership – Glover says that the church was extremely receptive to learning how to support Graham and his family, and that this process is helping the church leadership support other families. "Everyone has the same worries in a situation like this," Glover said. "Families are worried they'll be judged or their child will be isolated, so they don't ask for help or get involved. They'll just sit in the back and not engage with the rest of the congregation. In this case, the family was met with open arms and respect. You don't know until you ask."
Communicate, communicate, communicate – "Communication between each member of our team was vitally important to our success," said Graham's mother. Everyone involved was committed to open and ongoing communication about what was working and what needed to be adjusted.
Identify the goal and break it down into steps – While the big goal was integrating Graham into a church community, everyone knew that a full service would be too hard at this time. Graham and the family identified a short section of the service that was achievable, and then focused in on the details of what was needed in that small period of time to prepare Graham.
Ensure regular buy-in on the goal – Graham was interested in church but became overwhelmed by unknowns and sensory challenges. Because he was able to help set his goal and choose his positive reinforcements, he became more invested in his success. His staff also reviewed his social story with him weekly, to prepare him for Sunday and to ensure that he felt comfortable with the goal he made.
Find appropriate supports and adjust as needed – For Graham, supports included a robust social story, his church bag, and helping to choose a positive reinforcement. All of these supports had to be adjusted, sometimes on a weekly basis. His social story often needed finetuning and toys would need to be rotated in and out of the bag. Currently, the family is working on fading out his positive reinforcement as he experiences more success attending Sunday School and services.
More Information
Autism & Faith Communities Toolkit
Bringing Autism and Faith Communities Together
Tags:
ASNC
,
autism
,
autism acceptance
,
autism advocacy
,
autism and church
,
autism and faith
,
autism anxiety
,
autism awareness
,
autism behavior
,
autism communication
,
autism north carolina
,
autism resources
,
autism social skills
,
Autism Society of North Carolina
,
autism support