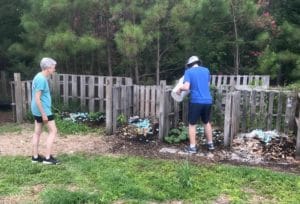 The participants in our new adult transition program in Wilmington are already learning skills that are transferable to future employment opportunities! Through a partnership with local nonprofit Cape Fear Enrichment Program, they participate in compost and gardening activities at Russell's Reach farm once a week.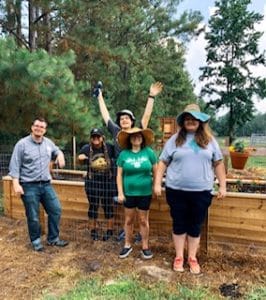 One of our young adults, Anna, said the program "helps me learn to work hard and use people skills."
Tasks such as distributing alfalfa, aerating the compost bins, and evenly distributing compost materials require attention to detail and following specific directives. The skills they are practicing can be used in various employment settings that involve functional tasks such as restaurants, retail stores, warehouses, and more.
Each week, they use checklists and follow schedules to gain independence, appropriately manage time, and ensure that all assigned tasks are completed.
Participants have the opportunity to share new ideas to contribute to the space, as well as fulfill tasks that are needed to maintain the area. We have started to collect our own compost using scraps from weekly cooking activities and are working on a compost tea project to contribute to the site!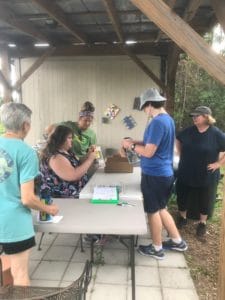 Our new adult transition program opened in June in Wilmington and will open soon in Greenville. With the support of Trillium Health Resources, it serves teens and young adults. The program focuses heavily on job readiness, job development, and job placement and training services, while incorporating skill development in other areas necessary for a successful transition to adulthood.
If you or a loved one could benefit, please fill out our interest form, and we will contact you.
Tags:
ASNC
,
autism
,
autism communication
,
autism employment
,
autism nc
,
autism north carolina
,
autism social skills
,
autism society north carolina
,
autism society of NC
,
Autism Society of North Carolina
,
Autism spectrum
,
Autism Spectrum Disorder
,
Autism Spectrum Disorders
,
autism support
,
Developmental disability