Meet some of our campers and learn about their summers at Camp Awesome in Newport, Wilmington, Winterville, and Brunswick and Onslow counties. These stories were shared by our camp staff as part of our 2018 end-of-summer publication, the Camp Awesome Chronicle.
Registration opens for summer 2019 on March 1. Go online to register for the one near you.
Wilmington Camper: Mikey Borneman
Mikey Borneman has limited verbal language and uses gestures, signs, and body language to communicate. His parents had been unable to find a suitable afterschool program for him until last year, when they heard about ASNC's Wilmington Social Recreation Center. They quickly applied to send Mikey, then in sixth grade. "This has been the most wonderful and rewarding opportunity!" said his mom, Tacey Borneman.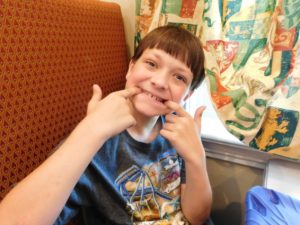 This year, Mikey, now 12, also attended Camp Awesome. Mikey can be shy, but he is attentive. He is oftentimes the kid hiding behind the curtain or behind his counselor when walking down the hall.
Until this summer, Mikey used low-tech ways to communicate. When an app was installed on his iPad, we began to hear his voice. Mikey began to use his device to participate in whole group discussion, games, and conversation. He began to indicate his feelings, his wants, and his needs through his app.
As Mikey used "his voice," we began to see a humorous young man who played tricks, loved to scare his counselors, and sought out the attention of anyone who spoke to him. Mikey began to open up and smile each day as he knew others were listening.
"I have never seen Mikey so happy," Tacey said. "He has become much more social and interactive, and has started to seek out the attention of others for play or just to engage. He came home every day and packed his bag for the next day in anticipation of the fun he knew he would have."
"The full-time staff, as well as the counselors, are exceptional," Tacey said. "Knowing that your child is in a place that they enjoy going, that they are safe, loved, and well cared for is every parent's greatest hope!"
Winterville Camper: Rogan Vincent
Who knew an 8-year-old could have such a big heart? As Rogan entered his second year with the Social Recreation Program in Winterville, his immense growth is noticed by everyone! Upon Rogan's first day of school last year after attending Camp Awesome, his grandmother, Dee Dee Vincent, received notes from his teacher and positive comments from all those who work with him saying how much he had grown over the summer.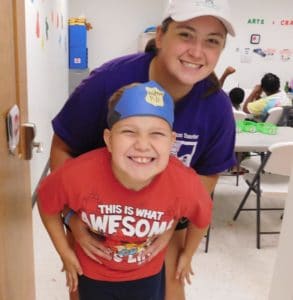 Rogan and his counselors have worked very hard to focus on building meaningful friendships with his peers and increasing social emotional skills. Rogan has learned to give his friends personal space when they need it most. He also has learned to express empathy when his friends are sad by offering them his Cheetos, his favorite snack, to cheer them up. Rogan and his counselor have also worked on strategies to help him cope through difficult transitions and unexpected changes.
Rogan loves to find ways to learn new facts about every camper, counselor, and staff member. He has the memory of an elephant; he never forgets a single fact. When Rogan is not busy learning new things about his friends, his favorite activities at camp include playing volleyball and rolling dodgeball in the gym, playing soccer outside, and shaking his groove thing while dancing and singing to camp songs.
One of his counselor's fondest memories of Rogan was when he decided to do jump in the deep end of the pool for the first time. Last summer, Rogan was very reserved at the pool and kept to the 3-foot section. But this summer, he was ready to conquer his goal of jumping into the deep end! By the end of summer, he had taken on the challenge of jumping in the deep end 100 times during each trip to the pool.
When his grandmother was asked what camp means to Rogan and their family, she said, "This program is our home, it gives us hope. I don't know where we would be without them."
Newport Camper: Jesse Dyczewski
Jesse Dyczewski began attending the Newport Social Recreation program in the fall of 2016 when we kicked off the initial Afterschool Program for children with autism on the Crystal Coast.
When Jesse first came to us, he spent almost his entire time at the center running back and forth in our backyard. He was minimally verbal, displayed minimal reciprocal interactions with adults or peers, and tended to play repetitively with only one or two toys.
Over the two years that Jesse has been attending our program, we have seen him grow tremendously. He started to discover his voice, especially during the van rides from his school to our center, often narrating what would come next in the route. "Turn right ahead," he would squeal from the backseat.
And then, one very special day that remains burned in my mind, Jesse spontaneously came around the corner, looked at me, and exclaimed "Look, Ms. Nicole," excitedly holding up a drawing of a rainbow he had just completed. This was the first time I had ever heard him call my name and share something with me.
Now, Jesse participates in every activity on his schedule, creating art activities, participating in motor activities, singing along with songs in the music room, and interacting with his peers during snack time. He even gives out the best and most cuddly hugs!
Onslow Camper: Ethan Lay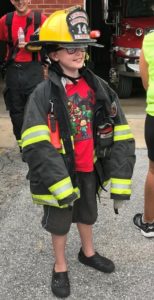 This summer was Ethan Lay's first time at Camp Awesome and his first time being involved in any program specifically for individuals with autism.
Before camp, Ethan, 10, was still learning about Autism Spectrum Disorder and was having a difficult time understanding the beauty of autism. Throughout camp he learned that autism is different in everybody, and it is not something to feel ashamed of.
Now he is proud of autism and the fact that it makes him unique. In fact, he makes sure to tell his classmates all about autism! He sees himself as an individual with potential and goals, just like everybody else around him.
"I made a lot of friends at camp who are like me," Ethan said. "Autism is actually really super awesome. I love my autism."
Brunswick Camper: Mathew Steve
Mathew Steve, who is 12, joined us at Camp Awesome for his third year this summer. Last year, and at the start of this summer, he didn't usually participate in group activities. Mathew has lots of active energy and is very playful and sweet. He likes to good-naturedly tease others when engaging with them.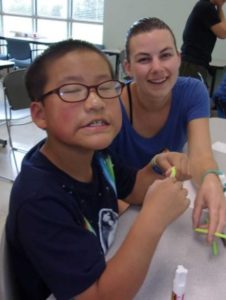 Mathew was paired with Counselor Alexandra Grasso, who enthusiastically tried new things throughout the summer. Through adapting activities, modeling appropriate play and peer interactions, and positively rewarding participation, we saw Mathew truly blossom this summer.
By the end of the six weeks, Mathew was joining in just about every group game and activity with Alex's encouragement. "He was jumping into the pool with other campers, playing duck-duck-goose and tag, and even singing along with camp songs!" Alex excitedly shared. "I am so proud of the progress Mathew made in the weeks he spent at camp."
His mother, Bobbie Steve, said Mathew wants to socialize but doesn't know how to engage others. "Camp Awesome is awesome in this area. He comes out of camp with a little more social skills every year," she said. "It's the best and he loves it!"
Tags:
ASNC
,
Asperger Syndrome
,
Asperger's Syndrome
,
autism
,
autism acceptance
,
autism camp
,
autism communication
,
autism nc
,
autism north carolina
,
autism resources
,
autism social skills
,
autism society north carolina
,
autism society of NC
,
Autism Society of North Carolina
,
Autism spectrum
,
Autism Spectrum Disorder
,
Autism Spectrum Disorders
,
autism support
,
Developmental disability