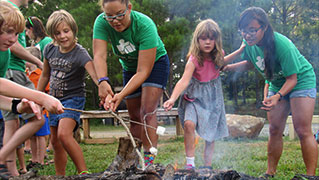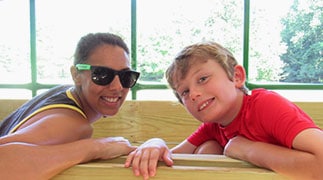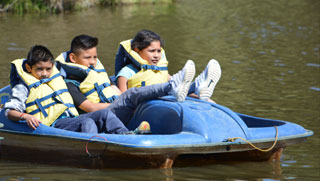 Camp Royall is a hub of year-round activity that offers a caring, accepting atmosphere and celebrates each individual. Year-round programs include Family Fun Days and Family Camping, Mini Camps, Adult Retreats, Residential Camps during school breaks, and Teen Tuesdays (social groups for teens).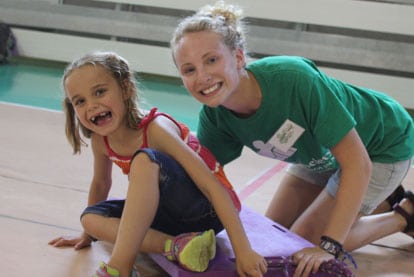 Family Fun Days & Family Camping
Join us for a Family Fun Day from 12 noon to 5 p.m. on Saturday or stay overnight for Family Camping. Both are a great way for families new to Camp Royall to get an idea of what we are all about and for return families to enjoy camp together. With Family Fun Days, you can enjoy all that Camp Royall has to offer, plus a cookout. (Our pool is open during our May and September Fun Days only.) The fee is $25 per family of 2, plus $5 for each additional family member. No family will be turned away if the fee is a hardship, and as always, additional donations are always welcomed. If you want to make a weekend of it, please stay for Family Camping in one of our cabins after enjoying dinner, a campfire, and evening activities. A light continental breakfast is provided Sunday morning before checkout at noon. The rate for a family of two is $125, with a fee of $15 for each additional family member. If you have a camper or RV, please call the camp director at 919-542-1033 for rates and reservations.
2019
April 6 (World Autism Awareness and Acceptance Day, no camping) Please register here.
May 18-19
September 7-8
December 14-15 (The holiday party features sensory-friendly visits with Santa. Rather than a cookout, holiday snacks and treats will be available.)
Residential Camps
We offer residential camps during the spring, fall, and winter breaks from school. Campers receive close supervision day and night; our counselor-to-camper ratio is 1:1 or 1:2, depending on the campers' level of need. We use trained volunteers and staff members to run our Residential Camp weeks. Drop-off on the first day of camp is at 4 p.m., and pickup on the last day of camp is at 1 p.m. The cost of a week of residential camp is $1,750. We offer payment plans over six months, and we have scholarship funding available for all of our programs.
2019
March 31-April 5 (ages 4-22)
October 13-18 (ages 4-22)
December 27-January 1 (ages 4-104)
Mini Camps
Mini Camp is a wonderful opportunity for campers of all ages to spend a weekend at camp from 5 p.m. Friday to 12 noon Sunday. Campers receive close supervision day and night; our counselor-to-camper ratio is 1:1 or 1:2, depending on the campers' level of need. We use trained volunteers and staff members to run our Mini Camp weekends. Mini Camp also provides respite for families; preference is given to campers living at home. The fee for each Mini Camp is $450.
2019
February 8-10
March 15-17
April 26-28
September 20-22
October 25-27
November 15-17
Adult Retreats
Independent adults, 18 and older with high-functioning autism, are invited to spend time at Camp Royall with friends! We gather on Friday evening to share dinner and activities. Saturday includes leisure and recreational activities at camp, as well as outings in the community, including dinner at a local restaurant. Sunday allows for more hangout time at camp before checkout at noon. Participants are asked for their opinions on activity options before each retreat, to ensure we plan activities that everyone will enjoy. We also offer one week-long retreat each year with similar activities. Compared to our other programs at Camp Royall, the supervision level during Adult Retreats is low. There is limited supervision in the cabins, and participants are in charge of administering their own medications. We have about four staff per 15 participants. If you are unsure whether the Adult Retreat program will be a good fit for your participant, please contact us. Any new participants will be screened by camp staff to make sure they are a good fit for the program. The cost of a weekend retreat is $250; the week-long retreat in September costs $550. All on-site meals are provided; participants must bring additional money to purchase dinner Saturday night.
2019
January 18-20
February 22-24
April 19-21
September 29-October 4 (week-long)
November 29-December 1
Teen Tuesday
Our group for teens, ages 13-22 with high-functioning autism or Asperger's Syndrome, brings them together to work on life skills in an interactive group setting. The group meets one Tuesday of each month September-May, from 5 to 7:30 p.m. The fall season of Teen Tuesday costs $140 (4 sessions), the spring season is $175 (5 sessions). The fee is payable at the beginning of the season. Dinner is included. To register or learn more, contact us at camproyall@autismsociety-nc.org or 919-542-1033.