"We've been bringing groups to Camp Royall since 2000. Our clients are constantly impressed by the casual camp environment that is clearly designed and maintained at a very professional level. The camp staff and management are also a joy to work with; always accommodating and more than willing to go the extra mile. We couldn't ask for anything more."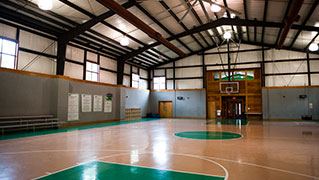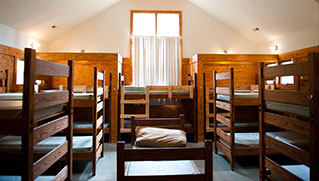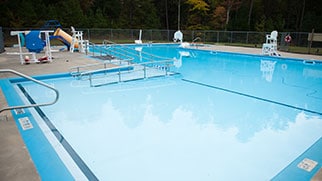 Rent Camp Royall
Camp Royall is a 133-acre facility owned and operated by the Autism Society of North Carolina. Centrally located, just south of Chapel Hill, the facilities at Camp Royall are available for groups to rent for retreats, meetings, parties, athletic events, and other gatherings. Due to the scope of our Summer Camp program, the facilities are not available from mid-May to mid-August.
Camp Royall offers three cabins, a large dining hall, and a gymnasium for rent. All buildings have central air conditioning and heating, and are fully wheelchair-accessible. Each cabin offers private, semi-private, and shared sleeping rooms, and can accommodate up to 29 people. All cabins have two bathrooms and a laundry room.
The Dining Hall seats nearly 100 people and can accommodate different seating arrangements. Camp Royall is not able to provide meal service, but the commercial grade kitchen is available to use. A list of local caterers and restaurants is also available.
The Gymnasium contains a regulation-size basketball court with bleachers.
Other features:
 High-speed wireless Internet access and AV equipment
 Swimming pool with bathhouse (available May-September only)
 Lighted playing field, playground, pavilion, and campfire circle
 Tent area and hiking trails
 Low-element team-building activities.
For more information contact us:
camproyallrental@autismsociety-nc.org
919-542-1033
250 Bill Ash Road
Moncure, NC 27559
Rental Forms and Downloads: